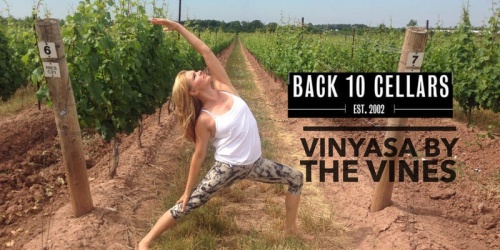 Yoga at Back 10 Cellars with Vinyassa by the Vines
Starts: July 14, 2019 @ 10:00am Ends: July 14, 2019 @ 11:30am
Where: Back 10 Cellars
About: Sunday July 14th is the second Vineyard Yoga date on the Back 10 Vineyard.

Come on out to the Vineyard for a little downward dog overlooking the vines followed by a wine tasting with a light nosh.

Classes range from $27.00 for a one class pass to $23.00 (each class) for a 4 class pass.

Buy a 4 class pass and receive a copy of "To Build a Vineyard", author signed.