A Rustic and Elegant Place to Gather & Celebrate Amongst the Vineyards
Create memories here that will last a lifetime. Intimate private gatherings are available at Smitten Summerhouse for meetings, off site events, birthdays, showers, milestone celebrations, anniversaries, rehearsal dinners, as well as ceremonies and small weddings.
The Summerhouse rental includes the entire venue and access to the vineyard privately.
Please note the Summerhouse will be used as an outdoor tasting room in the Spring, Summer and Fall months, daily until 5:00 p.m. as a part of our working winery. It is only available after our winery tastings have concluded. If you wish to book it out during a weekday, earlier than 5:00 p.m. and have us close the winery a little earlier please contact us for a custom quote. Closing the winery early on a Saturday will not be possible.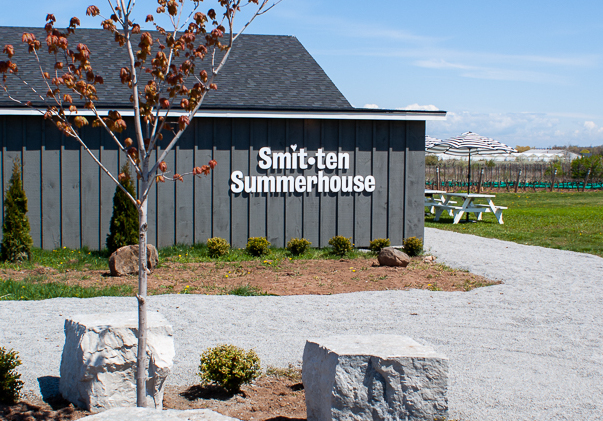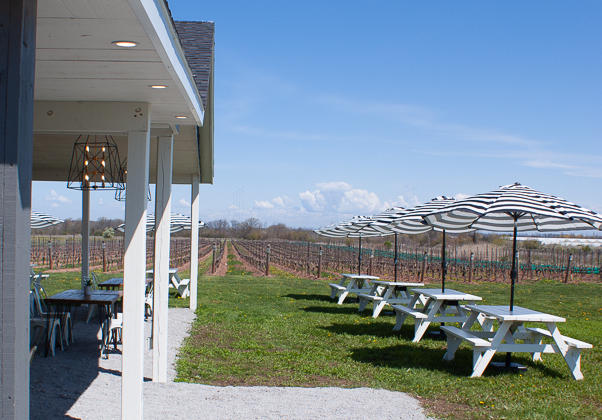 Available Hours/Fees for private site rental
Sunday- Thursday 5:00 p.m. -11:00 p.m.
Fee- $3500.00 + HST + 15% gratuity
Long weekends, Sunday Fee-$4500.00 + HST + 15% gratuity
*3 case minimum wine purchase applies (unopened bottles can be taken home)
Friday & Saturday 5:00 p.m. -11:00 p.m.
Fee $4500.00 + HST + 15% gratuity
*3 case minimum wine purchase applies (unopened bottles can be taken home)
What Summerhouse Rental Includes
Tables and chairs for 50 people under cover.
(Max 50 people for sit down event, 60 for standing.)
8 picnic tables with umbrellas, seating *outdoor only. Wine glasses
Dimmable lighting after dark Staffing fees (bartender & servers)
Sound system(speakers)
Wi-Fi enabled Plug ins for twinkle lights Exclusive use of farm vineyard after 5:00 p.m. 11:00 p.m. rain or shine.
Green space adjacent to Summerhouse for tent rental or additional outdoor ceremony space.
Micro Events / Rehearsal Dinners/ Ceremonies *During Co-vid
Sunday- Thursday 5:00 p.m. -7:00 p.m.
Fee $1500.00 + HST + 15% gratuity
*2 case minimum wine purchase applies (unopened bottles can be taken home)
*Number of attendees allowed may change without notice. Minimum 2 hour rental fee will still apply.
Includes private Summerhouse rental for 2 hours. (after 5:00 p.m.)
Ceremonies or celebrations for up to 25 people (contingent on government restrictions.) Safety regulations & Co-vid safety protocols will be in place at all times.
Tables of 4 – 6 can be socially distanced within the private Summerhouse.
Charcuterie boxes
Small, serves 1-2 people- $20.00 per box
Large, serves 2-4 people- $45.00 per box
Back 10 Cellars wine by the glass will be charged on
*consumption. *Minimum wine purchase for micro events is 2
cases.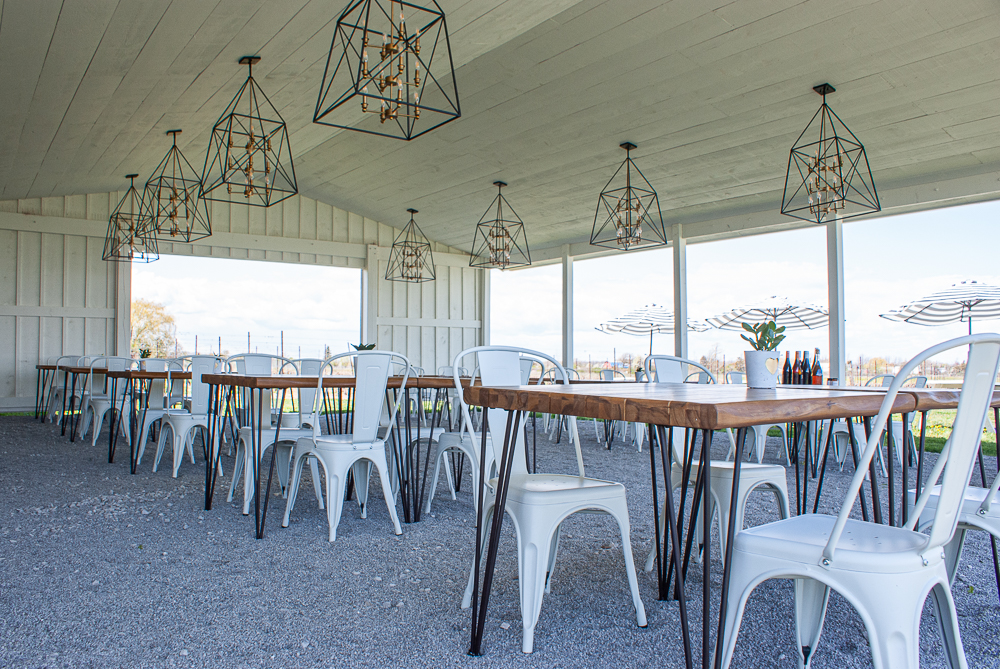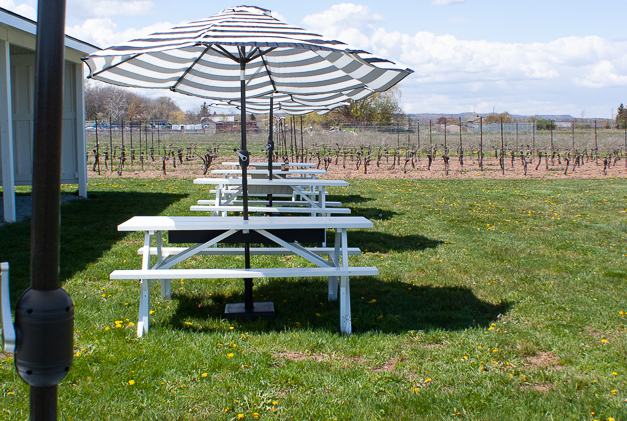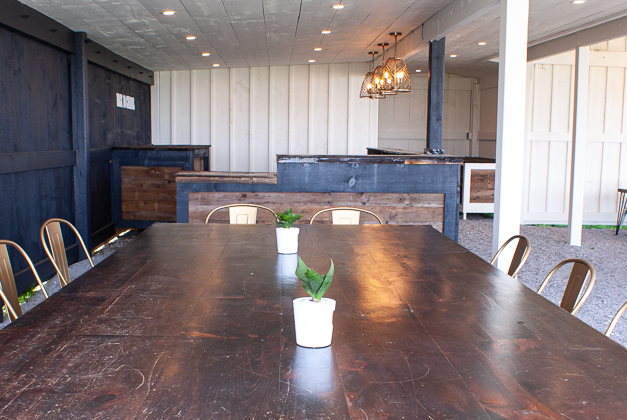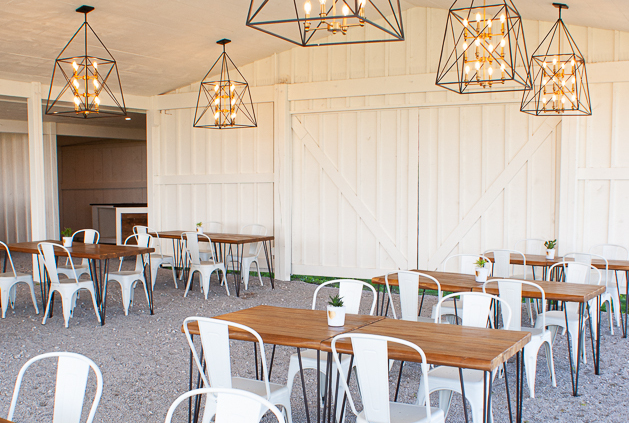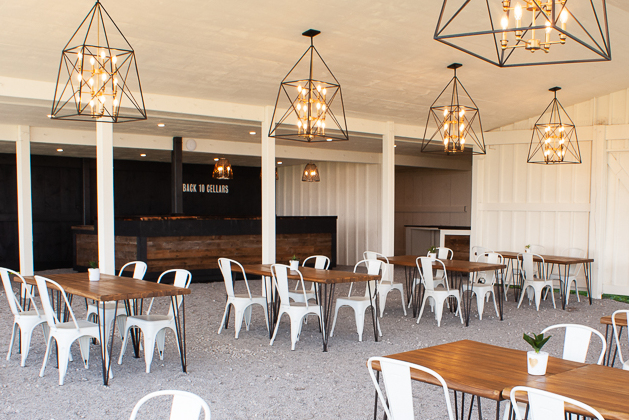 The Smitten Fine Print
- We are a working farm vineyard. Farm equipment can be visual during harvest. Bird bangers may also be heard from neighbouring vineyards and cannot be turned off.
- There is no dance floor. One can be brought in and set up if required starting at your rental time.
- There is no heating in the Summerhouse. Space heaters can be brought (paid for and arranged by you) in the cooler months.
- Any tents, dance floors or standing decorations must be removed by 9:00 a.m. the next morning. If they are not removed by 9:00 a.m. a cleaning fee of $250.00 per hour will be applied to final bill.
- Any table décor must be removed at the end of the event.
- Nothing can be stapled or glued or affixed to beams or any part of the existing structure.
- No open flame of any kind is allowed on the vineyard. This includes candles, sparklers, fireworks, wish lanterns or bon fires.
- Confetti is not permitted.
- Site fee rentals apply regardless of number of guests in attendance.
- Back 10 Cellars will not be responsible for any misplaced or stolen items.
- Food and food service will be your responsibility. There is no food or food package included with the Summerhouse rental.
- A catering company (or food truck) with a catering business licence & food service licence will be required for any food offerings. Bringing in and/or cooking your own food is not permitted.
- We do not have an on-site event planner. You will need to hire your own event planner and decorator to coordinate the details of your celebration.
- Back 10 Cellars reserves the right to charge the credit card on file for any and all damages incurred by the event rental at Smitten Summerhouse.
Music
Amplified music is acceptable until 10:00 p.m.(as per town by-laws)
- All music must end at 10:00 p.m. sharp.( as per town by-laws; exceptions can be applied for up to 11:00 p.m.)
- The starting fines for noise violations are $1,000 and will be added to the final bill.
- Music cannot exceed 60 decibels.
- Small 3-5 piece bands are permitted.
- We reserve the right to control levels of music at any time during the event.
Alcohol
- We serve Back 10 Cellars wine exclusively at $10.00-$12.00 per glass.
- Minimum case purchases apply for every Summerhouse rental.
- Sorry, no spirits or shots.
- No outside alcohol is permitted on property.
- As per our AGCO license and regulations, any outside alcohol found on the property will result in a minimum $1000.00 fine (applied to final bill) and will be confiscated.
- Craft Beer can be purchased and consumed on the vineyard from our neighbours at Bench Brewery.
Services
- Please be advised that we do not have a photographer, event planner, decorator or musician on site.
- It will your responsibility to book all of the above to coordinate the details of your event.
- We can coordinate corporate gift baskets, or wine gifts for your guests to take home at the end of the event.
- We also have our own honey, recycled wine bottle candles and mini wine jams available for takeaway gifts and wedding favours.
Deposit Policy
- To confirm your space, a non-refundable deposit in the amount of $4,000.00 is due at the time of signing contract for full venue rental.
- $1500.00 non- refundable deposit is required for micro event rental.
- Final payment is due 60 days prior to the event date.
Make a $4000 Deposit Make a $1500 Deposit
Cancellation Policy
- If cancellation occurs prior to the venue rental, the deposit will not be refunded.
- 50% of the minimum wine requirement will be refunded if event is cancelled within 6 months of event.
Your Celebration on the vineyard awaits. Cheers!