"We wanted to build something from scratch", "something gratifying", "but we were afraid that vineyard ownership was out of our reach". The Brooks' had no experience in farming or agriculture, but clung to the dream of starting a vineyard from the ground up. Back 10 Cellars started with a big dream , pure will, gumption and determination. "This isn't a generational family business". "This entire vineyard was purchased by us, two twenty somethings ,who were willing to take the big leap of faith and put in the Blood , Sweat and Years to make their dream a reality."
It was on a cold January day that a realtor showed them a derelict 10 acre propery in Beamsville, that they could barely afford. "We will take it", they said…and the rest is history.
We chose the name Back 10 Cellars because we bought this tiny 10 acre piece of land in the heart of wine country and it took us 10 years to make our first bottle of wine.
Cheers to doing what you love!
Our
Time
Line
A Visit To Burgundy
---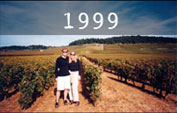 It all began in 1999, we were working at River Café in Calgary Alberta. One wintery afternoon we had a wine tasting with a small vineyard owner as part of our ongoing wine education. He spoke of his passion for wine, how he had attained a small parcel of land and started his little winery. We were immediately smitten.
What would it take to own our own vineyard? Or was it even a possibility? After all, we weren't rich(far from it), and we were only in our late twenties.
The hunt began. We travelled to Italy, France, Kelowna B.C. and South Africa, but these places were too far out of reach and too costly. We were ready to unplug from our lives and take the big leap.
It was on a trip to Niagara( where Christina grew up), that we found a ten acre property in between Vineland and Beamsville . It wasn't pretty. A diamond in the rough is an understatement but we could afford it and the house sat on a derelict 10 acre farm.
We drove around wine country for hours and after getting lost(repeatedly) decided we should offer a more convenient way of allowing travellers to seamlessly travel from winery to winery. We launched our wine touring brand "Crush on Niagara Wine Tours" and it has been going strong ever since.
It's been a wonderful and worthwhile 10 year journey. Drink this wine with passionate people. There is hard work, laughter, tears and dedication in every glass.
2001 - Big Reach
---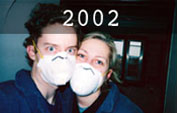 Reach; To make an excessive effort ; to come to or arrive at in some course of progress, action, etc.
While in his Sommelier class, Andrew's instructor asked each student; "why do you want to be a Sommelier and what are your plans". Eager students answered "I want to start a wine agency", or "I want to work at such and such restaurant". When Andrew answered enthusiastically, "I want to have my own vineyard one day", the students burst out laughing.
We knew our dream of owning a vineyard was a stretch by anyone's imagination and certainly out of our reach at the time.
We scribbled out a one year game plan on a calendar and month by month, week by week, day by day, we accomplished things to get us closer to our dream of owning a vineyard(without robbing any banks).
Thus our first born (wine that is) "Big Reach Riesling" would make its debut in the world and it only took 10 years.
Cheers to doing what you love!
2005 - Big Leap
---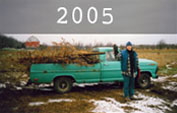 Leap; An abrupt or precipitous passage, shift or transition; a thing to be leaped from.
We knew we didn't want to spend the rest of our lives working for anyone else. Yes we were young and extremely naïve but we were smitten with wine country and all things wine. After all, what was the worst that could happen..
When the time came to quit our jobs and pack up our lives and our home, we were both excited and horrified. We closed the deal on the vineyard, gave our two weeks notice and informed family and friends that we purchased a defunct 10 acre property.
We are so proud to have bottled this second wine. We took the Big Leap, and so glad we did. This Cab Franc is a celebration of our journey to Niagara and a testament to our leap of faith.
Cheers to doing what you love!
2008 - Building Brix
---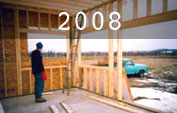 Build; To construct (something, typically something large) by putting parts or material together over a period of time.
When we took possession of the property in 2002, we were excited at the prospect of our new venture. We were thrilled to be meeting the realtor at the house to get our keys and start this next chapter in our lives.
After wandering through the house and vineyard with a sketchpad and pen in tow, we both began to feel ill. Reality sunk in. This was going to be a massive undertaking.
Well, we started with a glass of wine (natch)! and with that came clarity. We simplified with a new game plan. Year 1-10, renovate, tear down and rebuild everything, plant vineyard, sounded simple enough.
Cheers to doing what you love!
2013 - Scratch
---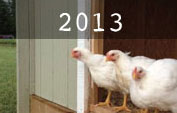 From Scratch; From the very beginning, starting something from nothing. Scratch; To use the nails or claws to dig or scrape at.
The benefit of starting something from scratch is that you have full and total control of how it's done and with this comes unparalleled quality.
We went the extra distance when planting the vineyard with under draining (vines don't like wet feet) and chose hearty rootstocks that were ideal for our heavy clay conditions. It was also extremely important to us to grow these grapes as naturally as possible, no pesticides or herbicides.
We are committed to nurturing our environment and having the least invasive footprint as possible. We plant and grow many of our own fruits and vegetables and also raise our own chickens. (Our chickens love to scratch the seeds from our pumpkins and zucchinis and squash). It is important for us for our kids to understand where their food comes from and to be environmentally responsible wherever possible.
Watching our vineyard, our kids, our gardens and our chickens grow has given us such a sense of self accomplishment and knowing that we did it all from scratch, makes life taste so much sweeter.
Cheers to doing what you love!
2016 - To Build A Vineyard
---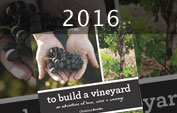 Christina is so thrilled to have her first book published "To Build a Vineyard" which tells the story of how we made our dream of owning a vineyard come true.
A chance encounter with a small winery owner was all that it took to set Christina and Andrew Brooks on a quest that would take ten years, see them travel across the world and back to Canada and push them to their limits as they worked to build a vineyard of their own. Despite limited funds – and even more limited knowledge of farming and agriculture, the two determined twenty-somethings took the big leap and bought a "diamond in the rough," a faded grand dame of a house and a derelict farm, smack in the middle of Niagara wine country. To Build A Vineyard is the story of the decade Christina and Andrew spent battling fire, goats, debt and doubt in order to build their vineyard and live their dream. It's a fascinating, funny and moving read that reveals the relentlessly rocky, but ultimately rewarding road that eventually lead to the creation of one of Canada's most exciting small-batch wineries, the award-winning Back 10 Cellars in Beamsville.
Cheers to doing what you love!
Buy Now