Open daily
Walk in. (11:30-5:00) 30 minute flight experiences.
Bottle shop Tasting Bungalow open daily. Book ahead for large groups and lunch.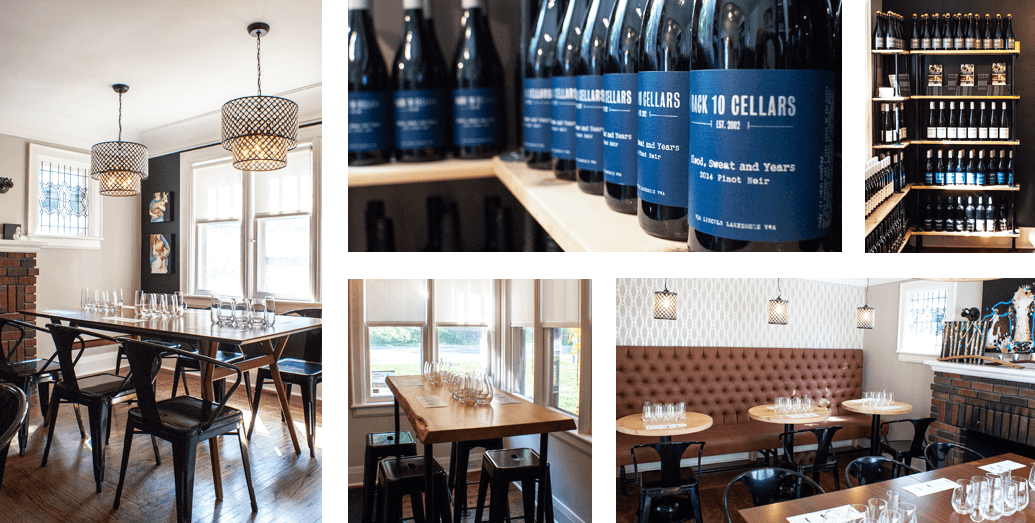 Group Experiences
Tasting Bungalow is open inside . Patio is open outside.
Seated Flight Experiences
Walk in indoors or on our patio . 30 minute Flight Experiences
ONLY BOOK AHEAD IF YOU ARE 8+ PEOPLE, OTHERWISE JUST WALK IN.
$20.00 + $3.00 (service gratuity) per flight
E-mail events@back10cellars if you have a large group and would like to book ahead.
We can take groups up to 40 people in our new Siphouse (booked ahead) 11:30-5:00 or up to 70 people in our Smitten Summerhouse as a private venue rental.
Please email events@back10cellars.com for 6 + guests to confirm date/time.
Lunch menu Tuesday- Saturday 11:30-4:00 (midweeks, minimum of 4 guests)
Smoked turkey sandwich on olive oil potato bread, Quinoa salad & chocolate chip cookie for dessert. Vegetarian option is a smoked beet and goat cheese sandwich. Cancellations or rescheduling are not possible. Please specify Turkey or Vegetarian under "additional info" and date/time of picnic & sandwich preference, allergies etc.
*Sunday lunch menu 11:30-4:00
**NEW Brunch Box- freshly baked croissant, 2 mini bagels, fresh fruit, brie, bacon, cream cheese with house made jam. Under "additinal info" please specify brunch box or picnic lunch.
or
Picnic lunch: Chicken Basil sandwich served on Foccaccia with a side salad OR Grilled Veggie sandwich served with side salad. Under "additional info"please add date/time of picnic & sandwich preference, allergies etc.
*All lunches are outdoors in the covered Smitten Summerhouse or Smitten Siphouse, rain or shine.
Wine by the glass, Smitten floats, and cocktails are available to purchase as are a few non-alcoholic alternatives. No outside food , drinks or alcohol is permitted.
Done Shopping?
Thanks for shopping with Back 10 Cellars
Thanks for adding an item to your cart, if you are ready to checkout click here otherwise you can view your cart in the top right of the menu.