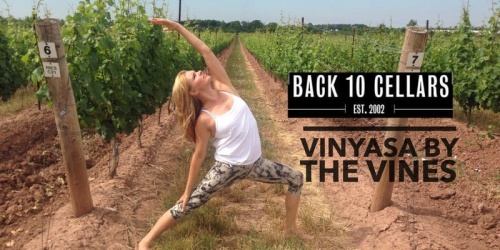 Yoga at Back 10 Cellars with Vinyassa by the Vines
Starts: June 14, 2020 @ 10:00am Ends: September 13, 2020 @ 11:30am
Where: Back 10 Cellars
About: This will be the first class offered in the 4 part yoga on the Back 10 Vineyard for 2020. Check out all 4 dates for Sunday's throughout the summer and early fall.

All dates, Sundays; June 14th,June 28th, July 12th, July 26th, August 9th, August 23rd, September 13th .

Come on out to the Back 10 Vineyard for a little downward dog overlooking the vines followed by a glass of wine with a light take away snack.

COVID protocols for the event include social distancing, pre poured tasting , pre packaged snack, hand sanitizer on check in.

Classes range from $25.00 for a one class pass to $45.00 for a 2 class pass, Three classes for $60.00

See you on the vineyard.