10 Things
that we do
in the Vineyard
We are committed to nurturing our environment and having the least invasive footprint as possible. We plant and grow many of our own fruits and vegetables and also raise our own chickens. (Our chickens love to scratch the seeds from our pumpkins and zucchinis and squash). It is important for us for our kids to understand where their food comes from and to be environmentally responsible wherever possible. We take extra steps in caring for our vines and really consider ourselves to be stewards of the land do. Andrew jokes that we make wine the way people used to 100 years ago. Our no "shortcut approach" produces the cleanest and purest single varietal wine in your glass.
Here are Ten things that we do differently in our vineyard.
We do not use systemic chemicals when spraying our grapes.
We hand harvest our grapes.(an expensive practice, but the gentle handling produces higher quality juice).
We don't use chemical fertilizer.
We only source fruit from our own backyard.
We have gone through the extra expense of underdraining every vineyard row which forces the vines deeper into the soil producing a very high quality grape. This gives the vines diverse root structures and creates a sense of place or terroir.
We use select cover crops to increase the diversity of the top soil.
We deep rip and aerate our soil every fall which helps break up the red clay and allows the vines more oxygen. This helps create an aerobic environment for the roots and a very healthy grape.
We use organic practices such as organic mushroom compost to add nutrients to the soil and less nitrogen.
We use bio dynamic practices. Our vineyard chickens eat bugs and critters on the vines thus keeping the vineyard leaf hopper and aphid free.
We use real barrels to age our wine. We source the best coopered Canadian, French and American Oak barrels to age our wines.
Watching our vineyard, our kids, our gardens and our chickens grow has given us such a sense of self accomplishment and knowing that we did it all from scratch, makes life taste so much sweeter. Cheers to doing what you love!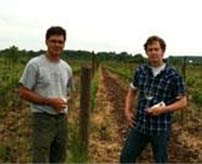 This project would not have been possible without the mentoring and guidance of David Johnson. From the beginning David has consulted on everything including clonal and rootstock selection, vine spacing soil preparation, control of weeds, mold pressure and pests in the vineyard. He is a celebrated passionate winemaker who has really hit his stride with the Featherstone brand. We feel so grateful to have such a talented and passionate winemaker caring for our vineyard labours.