Rose Coloured Glasses 2021
|

New Release
This small lot Rosé is an ideal combination of Pinot Noir and Gamay. The grapes soaked on the skins for 24 hours with residual sugars at 8 grams per litre. The yield was extremely low at only 277 cases.
This wine is summer in a glass. It bears striking aromas of candied strawberry, orange zest and lemon rind. Rose Coloured glasses was inspired by one of our daughters "Mia Rose" who always wears her glasses with Rose coloured lenses because it makes the world a prettier place.
Drink this lovely Rose with grilled vegetables or Salmon, seared tuna and light salads.
---
Limited Production: Only 277 cases crafted
---
Awards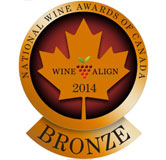 2013 Rose Coloured Glasses Rosé
Bronze Medal Winner - National Wine Awards, Wine Align

This blend of Merlot and Gamay is very dry. The nose is a little smoky and once you get into this wine you have watermelon and strawberry. The finish is nice a clean with good acidity. I would call this a serious rosé. This will make a great patio sipper. But it has the depth that it will stand up to just about anything you can serve off the barbeque. - Andre Wine Review